Alumni News
2023 Distinguished Alumni Award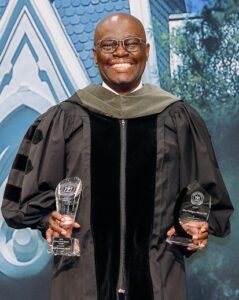 Adrian Washington, Pharm.D.`91 was named the recipient of the 2023 Distinguished Alumni Award. Dr Washington is currently the Vice-President of Client Management with Optum Rx and has over 30 years of practice, pharmacy benefit, pharmacy consulting, health policy, and executive leadership experience. In addition to his pharmacy degree from Mercer, he also holds a Master of Business Administration in Healthcare Administration degree. Dr. Washington is an active alum, serving on the College of Pharmacy Alumni Board of Directors and several College committees.
Alumni News
Reginal Frye, Pharm.D.'90 was named dean of the College of Pharmacy at the University of Tennessee Health Science Center (UTHSC). He began his tenure at UTHSC on June 1
Chuck Ellis, Pharm.D. '87 was named PharMerica's Regional Pharmacy Director of the Year.
DeRoyce Simmons, Pharm.D.'07 was recently promoted to Sr. Director, US Brand Marketing in Eli Lilly and Company's Immunology Business Unit.
Ashlyn Carter, Pharm.D.'12 and Bryce Carter, Pharm.D. '14 both passed the Board Certification Sterile Compounding Pharmacists (BCSCP) exam and currently work in oncology infusion at Georgia Cancer Specialists through Northside Hospital and Emory University's Winship Cancer Institute, respectively.
Christopher Jones, Pharm.D.'06 was recently selected as the new Director of the National Center for Injury Prevention and Control at the Centers for Disease Control and Prevention.
Michelle Aslami, Pharm.D. '16  received the 2022 Academy of Managed Care Pharmacy Individual Contributor Award.
Kasey Willis Cole, Pharm.D. '15 was promoted to General Manager and Pharmacist in Charge at Omnicare of Panama City, FL.
CDR Scott Raisor, Pharm.D.'09 with the United States Public Health Service Commissioned Corps was promoted to Chief, Pharmacy and Therapeutics Section at the Defense Health Agency.
Brianna Massey, Pharm.D.'21 is completing her second-year residency in pediatrics and becoming a Board Certified Pediatric Pharmacy Specialist (BCPPS). Brianna is planning to relocate to Savannah, GA to work as the general pediatrics specialist at Children's Hospital of Savannah.
Juliane Park, Pharm.D. '22 published a drug review, Daridorexant: Comprehensive Review of A New Oral Agent for the Treatment of Insomnia, in the Annals of Pharmacotherapy.
Mike Schwartz, Pharm.D.'95 retired as a Colonel from the U.S. Air Force Reserves and is a Clinical Professor at East Carolina University. He holds a faculty appointment from the College of Allied Health Sciences and an Adjunct Professor appointment from the Brody School of Medicine, Division of Infectious Diseases. Mike, his wife, Lorie, and son, Jackson, live in Greenville, NC.
Carmen Echols, Pharm.D. '12 married Matthew Rush on April 24, 2023 in Asheville, NC.
Michael Trent, Pharm.D. '96 married Sheila Parrett on April 14, 2022.
Amon Peters, BSPharm.'71 retired and moved to Childersburg Alabama.
Margo Mosteller Taylor, Pharm.D. '07 welcomed a son, Jude Dawkins Taylor, on January 21, 2023.
Kalu Kalu, Pharm.D. '17, married Kara K. White, Pharm.D. on April 16, 2023.
Michael Rogers, Pharm.D. '76 will be retiring soon and starting a new YouTube channel called Mike's Music Channel.
Benjamin Reddoch, Pharm.D. '15 recently obtained his BPS Certification in Infectious Disease. He and wife, Nancy Tran Reddoch, Pharm.D. '15, welcomed a son in 2021.
Keep your Mercer family in the know by sharing your update with the College. Need to make a change to your alumni contact info?