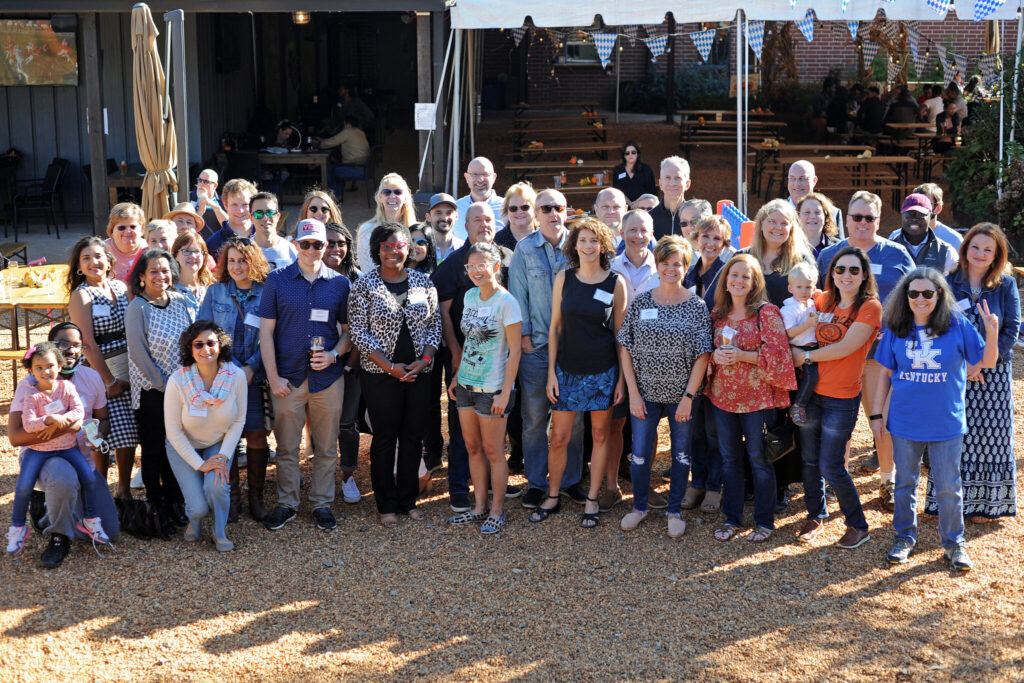 Alumni News
Keep your Mercer family in the know by sharing your update with the College!
Need to make a change to your alumni contact info? 
February 2021-October 2021
Gabe McLemore, Pharm.D. '06, has transitioned to a new agency through the CDC and has joined the U.S. Agency for International Development in Washington, DC. As pharmacist/medical commodities advisor, Dr. McLemore will be evaluating grant proposals of international NGOs that include requests for pharmaceuticals.
April Adams, Pharm.D. '91, was promoted to Sr. Director, US Field Medical, Cardiovascular with Bristol Myers Squibb. She now leads a national team of Regional Directors and Medical Science Liaisons to support scientific exchange in the areas of atrial fibrillation, venous thromboembolism and hypertrophic cardiomyopathy.
Ruth Haile-Meskale, Pharm.D. '12, MBA '11, and husband Steven Gerhard welcomed the arrival of son Theodros "Teddy" Gerhard on November 27, 2020.
Valerie Prince, Pharm.D. '93, was named 2022–2023 APhA president-elect. She is a professor at Samford University McWhorter School of Pharmacy and a clinical pharmacy specialist at St. Vincent's East Family Medicine Residency Program in Birmingham, Ala.
Diane Nykamp, B.S. '81, Pharm.D. '82, retired from the College. She served on faculty for 39 years, including as vice chair of pharmacy practice and the experiential education coordinator.
James Nash, Pharm.D. '97, was recently named dean of Husson University College of Health and Pharmacy.
Tracie D. Lunde, Pharm.D. '08, was recently appointed to a three year term to serve on the Georgia Pharmacy Foundation Board of Directors.
Carmen Garcia Leffler, B.S. '77, recently retired as Pharmacy Director after 43 years of service to Ascension St. Thomas Hospital in Nashville, Tenn. She has left a legacy of caring, compassion and dedicated service to the patients, clinicians and colleagues.
Nikki Adams Bryant, Pharm.D. '03, was named the 2021 National Preceptor of the Year by the NCPA Foundation.
Liddy Cronan, Pharm.D. '21, is the first recipient of the Jim Bartling Student Pharmacist of the Year Award, named after the College of Pharmacy's longtime, beloved associate dean for student affairs who passed away in September 2020. Dr. Cronan was active in APhA and GPhA, including service on the Student Leadership Board. She was president of the Mercer chapter of NCPA, and during her term, the chapter was recognized as national chapter of the year.
Jim Bartling, B.S. '76, Pharm.D. '77, was awarded the Georgia Pharmacy Association's Larry Braden Meritorious Service Award posthumously. Dr. Bartling served as president of GPhA, was active in the Georgia Pharmacy Foundation and helped countless pharmacists to overcome their addictions and restore their careers through PharmAssist.
Bryce Carter, Pharm.D. '14, was recognized as the Georgia Pharmacy Association's Mal T. Anderson Region President of the Year.
John Thomas Sherrer Jr., Pharm.D. '15, was the recipient of the Pharmacists Mutual Insurance Distinguished Young Pharmacist Award at the Georgia Pharmacy Convention.
James Gilmore, Pharm.D. '92, named chief pharmacy & procurement officer for American Oncology Network, a medical oncology provider with a focus on supporting the long-term viability of cancer treatment in community-based settings.
Tamera Hughes, Pharm.D. '19, Ph.D. '19, and Earnest Taylor, Ph.D. '16, were selected for postdoctoral research appointments with the University of North Carolina at Chapel Hill Carolina Postdoctoral Program for Faculty Diversity.
Mark Barnes, B.S. '81, celebrated the 100th anniversary of Barnes Pharmacy in Baxley, Ga. He is a third generation pharmacist and now owner of the pharmacy, originally opened by his grandfather in 1921.
Sean Chitwood, Pharm.D. '13, MBA '13, received the AMCP Spirit of Volunteerism Award for demonstrated exemplary and outstanding service to AMCP over the past year.
Patrick Durham, Pharm.D. '09, is the pharmacist-in-charge at the new Cempa Pharmacy in Chattanooga, Tenn. The full-service pharmacy is open to everyone in the community.
Rissa Pryse, B.S. '80, owner of Terry's Pharmacy is Lafollette, Tenn., has served on the State of Tennessee Board of Pharmacy since 2016 and is finishing her term this year.
Jill Augustine, Pharm.D. '12 has been inducted into Mercer University's Phi Kappa Phi chapter. PKP is the nation's oldest, most selective and most prestigious all-discipline honor society, and selection is based on scholarly achievement, distinction in the field of study and exceptional service to the university. Membership includes outstanding faculty, administrators, staff, students, alumni and community leaders.
Lauren Riley Howell, Pharm.D. '11 and her husband, David, welcomed their second son, Carter Riley, on May 4, 2021.
Leonard Bennett, Pharm.D. '89 is the co-owner of Tuk Tuk Street Food, a food truck stationed in the Murray Hill neighborhood of Jacksonville, Fla., that serves authentic Thai food.
John Thomas Sherrer, Jr., Pharm.D. '15 married Holly Amanda Whire in Acworth, Ga., on May 15, 2021.
Kristi Elgersma Schlacht, Pharm.D.'05 and her husband, David, welcomed the arrival of their daughter, Hayden Sue Schlacht, born June 24, 2021. She joins big brother Elijah.
October 2020-January 2021
Judy Gardner, Pharm.D. '87, has been appointed to serve on the Georgia Composite Medical Board as a consumer member. For the past 31 years, she has worked for Northside Hospital in Atlanta. Over the span of her professional career, Dr. Gardner has practiced as a critical care pharmacist, staff development and projects specialist, and manager for clinical services. In her current role as director of pharmacy services, she oversees hospital and retail practice sites.
Liza Chapman, Pharm.D. '02, has been named chairman of the Georgia Pharmacy Foundation. The foundation's mission is to advance the quality of healthcare for patients in Georgia communities through the profession of pharmacy.
Celynda Tadlock, Pharm.D. '93, has been appointed chief client officer and EVP of pharmacy benefit services of Tabula Rasa HealthCare, Inc., a healthcare technology company advancing the field of medication safety.
Chidozie Ukpabi, Pharm.D. '17, was recognized with a 2021 Star Research Achievement Award from the Society of Critical Care Medicine for his research abstract titled "Prophylactic Anticoagulation Dosing in Aneurysmal Subarachnoid Hemorrhage Patients requiring an EVD." Dr. Ukpabi is a clinical pharmacist at Emory University Hospital.
Joanne Nguyen, Pharm.D. '14, is the new chapter leader for the Mercer Alumni Warner Robins Chapter.
Lisa Sagardia Shapiro, Pharm.D. '17 married Sam Shapiro on July 23, 2020. Their original wedding plans were postponed due to the pandemic, so the couple held a simple but lovely ceremony at Piedmont Park in Atlanta.
Silky Beaty, Pharm.D. '05, was recently promoted to U.S. immunology head of health economics and outcomes research (HEOR) / real-world evidence (RWE) strategy at UCB.
Sera McNutt, Pharm.D. '17, started a new job as a specialty clinical pharmacist in rheumatology and digestive diseases with Yale New Haven Health System in New Haven, Conn.
Amanda Abdulbaki, Pharm.D. '19, completed a fellowship in association management at the Iowa Pharmacy Association (IPA) in June 2020. She has remained on staff at IPA and now serves as its director of membership and engagement.
Julie Chapman Groppi, Pharm.D. '97, currently serves on the American Society of Health-System Pharmacists (ASHP) Board of Directors. She is also the 2019 recipient of the Florida Society of Health-System Pharmacists Distinguished Service Award. Dr. Groppi, a long-time pharmacist with the U.S. Department of Veterans Affairs, now works in its clinical pharmacy practice central office. Her department, along with the pharmacy residency program office, were recently recognized with ASHP's 2020 Award of Excellence honoring the work of both offices as well as all VA pharmacists working to advance pharmacy practice.
Amanda Abdulbaki, Pharm.D. '19 welcomed her second baby boy, Hamzah, in Sept. 2020. He was born exactly 18 months after big brother Hayyan (March 2019).
Raymond Bishop, B.S. '71, retired after 40+ years of community pharmacy practice. A past president of the Kentucky Pharmacists Association and the Jefferson County Academy of Pharmacy, he is now enjoying retirement in the Louisville, Ky. area.
François Emmanuel Cherestal, Pharm.D. '15, started a new position as medical science liaison at Calliditas Therapeutics.
Neema Amin, Pharm.D. '07, a pharmacy manager with CVS, was selected as one of several leaders in the Atlanta market overseeing CVS pharmacists as they administer the COVID vaccine in LTC facilities. In this role, she has organized and led a group of pharmacists and technicians for her assigned clinics.
Sonalika Bhattaccharjee, a Ph.D. student, recently defended her dissertation entitled "Strategies for rapid and sustained delivery of actives into and across skin" and has joined GSK Consumer Healthcare as a development scientist in Richmond, Va. She will graduate in May 2021.
Majed Fackih, Pharm.D.'04, MBA '04, is senior vice president and owner of Tamimi Pharmacy, LLC., a specialty pharmacy in Temple Terrace, Fla. Inc. 500 Magazine listed the pharmacy as one of its 5,000 fastest growing privately-owned companies in America in 2019 (2314% growth) and 2020 (365% growth).
Ashlyn Bozeman Carter, Pharm.D. '12 & Bryce Carter, Pharm.D. '14 announce the arrival of Brooklyn Elyse Carter born on Oct. 12, 2020, weighing 6lb., 3oz. and measuring 18 1/2 inches long.
LaFreda Robinson Smith, Pharm.D. '93, recently was named the pharmacist in charge of the Atlanta branch of Barnes Healthcare Services.