Alumni Events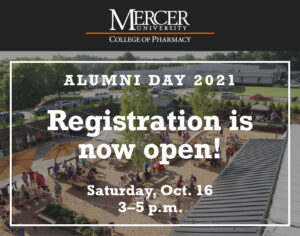 Saturday, October 16
Alumni Day 2021
3 – 5 p.m.
Tucker Brewing Company, Tucker, GA
Join Mercer University College of Pharmacy for an afternoon of fun, great food & craft beer as we reconnect and say cheers to this year's alumni award recipients! This event will be held outdoors in Tucker Brewing Company's Beer Garden, recently ranked #4 best beer garden in America by USA TODAY. Arrive early for a behind the scenes tour of the brewery! Attendance is $20 per person and includes 2 drink tickets, appetizers and optional brewery tour. Parking is free!
Saturday, November 13
College of Pharmacy Tailgate
11 a.m. – 2:00 p.m.
Mercer University's Black Field in Macon
The College of Pharmacy welcomes students, alumni, faculty, staff and friends to join us for our tailgate! Let's enjoy an afternoon of fun and food before the big game! For more information and to register, email Sarah Bigorowski at Bigorowski_sc@mercer.edu.
Alumni News
Keep your Mercer family in the know by sharing your update with the College!
Need to make a change to your alumni contact info? 
October 2020-January 2021
Judy Gardner, Pharm.D. '87, has been appointed to serve on the Georgia Composite Medical Board as a consumer member. For the past 31 years, she has worked for Northside Hospital in Atlanta. Over the span of her professional career, Dr. Gardner has practiced as a critical care pharmacist, staff development and projects specialist, and manager for clinical services. In her current role as director of pharmacy services, she oversees hospital and retail practice sites.
Liza Chapman, Pharm.D. '02, has been named chairman of the Georgia Pharmacy Foundation. The foundation's mission is to advance the quality of healthcare for patients in Georgia communities through the profession of pharmacy.
Celynda Tadlock, Pharm.D. '93, has been appointed chief client officer and EVP of pharmacy benefit services of Tabula Rasa HealthCare, Inc., a healthcare technology company advancing the field of medication safety.
Chidozie Ukpabi, Pharm.D. '17, was recognized with a 2021 Star Research Achievement Award from the Society of Critical Care Medicine for his research abstract titled "Prophylactic Anticoagulation Dosing in Aneurysmal Subarachnoid Hemorrhage Patients requiring an EVD." Dr. Ukpabi is a clinical pharmacist at Emory University Hospital.
Joanne Nguyen, Pharm.D. '14, is the new chapter leader for the Mercer Alumni Warner Robins Chapter.
Lisa Sagardia Shapiro, Pharm.D. '17 married Sam Shapiro on July 23, 2020. Their original wedding plans were postponed due to the pandemic, so the couple held a simple but lovely ceremony at Piedmont Park in Atlanta.
Silky Beaty, Pharm.D. '05, was recently promoted to U.S. immunology head of health economics and outcomes research (HEOR) / real-world evidence (RWE) strategy at UCB.
Sera McNutt, Pharm.D. '17, started a new job as a specialty clinical pharmacist in rheumatology and digestive diseases with Yale New Haven Health System in New Haven, Conn.
Amanda Abdulbaki, Pharm.D. '19, completed a fellowship in association management at the Iowa Pharmacy Association (IPA) in June 2020. She has remained on staff at IPA and now serves as its director of membership and engagement.
Julie Chapman Groppi, Pharm.D. '97, currently serves on the American Society of Health-System Pharmacists (ASHP) Board of Directors. She is also the 2019 recipient of the Florida Society of Health-System Pharmacists Distinguished Service Award. Dr. Groppi, a long-time pharmacist with the U.S. Department of Veterans Affairs, now works in its clinical pharmacy practice central office. Her department, along with the pharmacy residency program office, were recently recognized with ASHP's 2020 Award of Excellence honoring the work of both offices as well as all VA pharmacists working to advance pharmacy practice.
Amanda Abdulbaki, Pharm.D. '19 welcomed her second baby boy, Hamzah, in Sept. 2020. He was born exactly 18 months after big brother Hayyan (March 2019).
Raymond Bishop, B.S. '71, retired after 40+ years of community pharmacy practice. A past president of the Kentucky Pharmacists Association and the Jefferson County Academy of Pharmacy, he is now enjoying retirement in the Louisville, Ky. area.
François Emmanuel Cherestal, Pharm.D. '15, started a new position as medical science liaison at Calliditas Therapeutics.
Neema Amin, Pharm.D. '07, a pharmacy manager with CVS, was selected as one of several leaders in the Atlanta market overseeing CVS pharmacists as they administer the COVID vaccine in LTC facilities. In this role, she has organized and led a group of pharmacists and technicians for her assigned clinics.
Sonalika Bhattaccharjee, a Ph.D. student, recently defended her dissertation entitled "Strategies for rapid and sustained delivery of actives into and across skin" and has joined GSK Consumer Healthcare as a development scientist in Richmond, Va. She will graduate in May 2021.
Majed Fackih, Pharm.D.'04, MBA '04, is senior vice president and owner of Tamimi Pharmacy, LLC., a specialty pharmacy in Temple Terrace, Fla. Inc. 500 Magazine listed the pharmacy as one of its 5,000 fastest growing privately-owned companies in America in 2019 (2314% growth) and 2020 (365% growth).
Ashlyn Bozeman Carter, Pharm.D. '12 & Bryce Carter, Pharm.D. '14 announce the arrival of Brooklyn Elyse Carter born on Oct. 12, 2020, weighing 6lb., 3oz. and measuring 18 1/2 inches long.
Valerie Prince, Pharm.D. '93 is a candidate for APhA President-Elect in this year's APhA elections. Dr. Prince is a Clinical Pharmacy Specialist at Christ Health Center Family Medicine Residency Program in Odenville, Ala.
Scott Tomerlin, Pharm.D. '06 is a candidate for APhA Trustee in this year's APhA elections. Dr. Tomerlin is a Pharmacy Manager at Walgreens Pharmacy in Rockledge, Fla.
LaFreda Robinson Smith, Pharm.D. '93, recently was named the pharmacist in charge of the Atlanta branch of Barnes Healthcare Services.
September 2020
Jessica Jones, Pharm.D. '10, is Wayne State University Eugene Applebaum College of Pharmacy and Health Sciences Warrior Preceptor of the Year. Dr. Jones is a critical care clinical pharmacy specialist at Beaumont Hospital in Dearborn, Mich.
Drew Miller, B.S. '80, of Wynn's Pharmacy in Griffin, Ga., is the 2020 recipient of the Georgia Pharmacy Association Bowl of Hygeia Award for his over 40 years of service and leadership in his community, in various practice settings, including chain, hospital, and independent pharmacy. He has owned Wynn's Pharmacy in Griffin since 2007 and serves on the Spalding County and the Georgia Medicaid boards of health.
Sujal Patel, Pharm.D. '12, of Guardian Pharmacy in Kennesaw, Ga., was presented the GPhA Mal T. Anderson Outstanding Region President Award for his service in Region Seven.
Nikki Adams Bryant, Pharm.D. '03, of Adams Family Pharmacy in Preston, Ga., was presented the NASPA Excellence in Innovation Award for demonstrated innovation in her practice during GPhA's annual convention.
Austin Tull, Pharm.D. '13, of Cherokee Custom Script Pharmacy in Canton, Ga. was presented the Pharmacists Mutual Distinguished Young Pharmacist Award during GPhA's annual convention.
Nasir Uddin, Ph.D. '11, joined the College of Pharmacy on Sept. 1 as an assistant professor in the Department of Pharmaceutical Sciences.
Lakesha Wiley Butler, Pharm.D. '05, was promoted to director of diversity, equity and inclusion at Southern Illinois University Edwardsville. She also received the AACP Health Disparities and Cultural Competency SIG Outstanding Member Award.
Advait Badkar, Ph.D. '02, is guiding the development of vaccines, including a potential COVID-19 vaccine, through clinical trials to commercial readiness as senior director of Pfizer's Novel Delivery Technologies group. Read more about his work and the potential of mRNA vaccines here.
Stephanie White, Pharm.D. '16, announces her engagement to Kenneth Bellows. The couple reside in Hope Mills, N.C. and are planning their wedding in Dr. White's hometown of Jacksonville, Fla.
August 2020
Mark Ogunsusi, Pharm.D. '10, was recognized in The Best Lawyers in America as Best Lawyers: Ones to Watch. Dr. Ogunsusi earned his J.D. from Georgetown University Law Center and is an associate in the drug pricing and 340B program practice group of Powers Pyles Sutter & Verville in Washington.
Susan Miller, B.S. '79, Pharm.D. '83, received the College of Pharmacy Award of Excellence in Service. She has served the College since 1979 in a variety of leadership roles including associate dean for administration and vice chair and chair of Department of Pharmacy Practice.
July 2020
Risa Hiroshima, Pharm.D. '12 & Gabe McLemore, Pharm.D. '06, announce the birth of their son, Remi Emerson McLemore on July 3, 2020. Remi weighed 7 lb., 7 oz. and was 20 1/2 inches long. He also is welcomed by big sister, Reina (3).
Brandon Feil, Pharm.D. '18, began a pharmaceutical industry fellowship at Arbor Pharmaceuticals, in partnership with the College of Pharmacy. In his role, he facilitates business development activities that support Arbor's portfolio and corporate strategy.
Congratulations to the 2020 College of Pharmacy Alumni Award Recipients!
Carlton Henderson Award: Nikki Adams Bryant, Pharm.D. '03
Distinguished Alumni Award: Richard A. Jackson, B.S. '69
Alumni Meritorious Award: Silky Webb Beaty, Pharm.D. '05
Meritorious Service Award: J. Grady Strom, Jr.
Young Alumni Award: Michelle Aslami, Pharm.D. '16
Barry Patel, Pharm.D. '92, and Wade Smith, Pharm.D. '88, founders of Galt Pharmaceuticals, announced FDA approval for a new drug, Orphengesic Forte, a non-opioid painkiller.
Molly Starkie Durham, Pharm.D. '09 and her husband, Eric, announce the birth of their son, Eric Wayne "EJ" Durham Jr., on Jan. 17, 2020.
Dan Buffington, Pharm.D. '87 was installed as president elect of the Florida Pharmacy Association during FPA's annual meeting in July.
June 2020
Samantha Roberts, Pharm.D. '07 (Emory Healthcare), Christa Russie, Pharm.D. '10 (The Pharmacy at Emory Midtown) and Lou Woods, Pharm.D. '14 (The Pharmacy at Emory Midtown) were recognized as "Champions of Opioid Safety" by the Georgia Pharmacy Foundation. The program helps pharmacists implement best practices to fight opioid misuse in their own communities.
May 2020
Thomas Ellington, Pharm.D. '87 was recently named assistant dean of assessment at the Bernard J. Dunn School of Pharmacy at Shenandoah University in Winchester, Va.
March 2020
Ayyappa Chaturvedula, Ph.D. '05 is the recipient of the 2020 Tanabe Young Investigator Award. The award, given by the American College of Clinical Pharmacology (ACCP), recognizes the significant contributions of an investigator who has made unusual strides in research related to clinical pharmacology and whose career shows promise of outstanding achievements at a relatively early stage.
February 2020
Ashana Puri, Ph.D. '19 received a $10,000 grant to fund her research on the development of transdermal systems of naloxone for treatment of opioid addiction. Sponsored by the American Association of Colleges of Pharmacy (AACP), the New Investigator Award provides start-up funding for the independent research programs of early-career pharmacy faculty.
Natalie John Merrels, Pharm.D. '15 has been promoted to Clinical Pharmacy Specialist-Critical Care at CarolinaEast Medical Center in New Bern, NC.