College of Pharmacy Alumni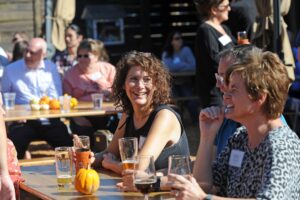 The College of Pharmacy produces some of Georgia's and the nation's top pharmacists and pharmaceutical scientists. Your investment in the College, its programs, and its students helps provide healthy communities and quality patient outcomes. We graciously ask for your support of the College as it continues its mission to prepare professional and post-graduate students to effectively contribute to and improve health care through excellence in patient-centered care and research.
Stay Connected
Have you moved? Recently married? Gotten a new job? Help the College of Pharmacy stay connected with you by updating your record.
Consider a Scholarship or Other Gift
Your investment in the College, its programs, and its students help to strengthen the position of our College while providing healthy communities and quality patient outcomes. You can make a gift or contact Andrea Pendleton in Advancement, or call her at (678) 547-6546 for assistance.
Participate in the White Coat Project for the Incoming Class
This is your opportunity to play a special role in the life of a new pharmacy student by sponsoring their white coat. Contact Andrea Pendleton on how to support this effort.
Alumni Ambassador Program (AAP)
The AAP was designed to provide opportunities for alumni engagement in a variety of areas. From assisting the Admissions team to retelling your career pathway to being a student mentor – there are numerous ways to be involved.
Take a moment to look at the openings for your participation and sign up today!
To learn more, please contact Genice Johnson, Alumni Services, or call (678) 547-6306.
Mentoring
The purpose of the Alumni Mentoring Program is to provide students who desire a mentor/mentee relationship with a successful academic experience as they matriculate through pharmacy school. The time commitment should be contacted at least twice per semester. Any time beyond this can be decided between the alum and mentee.
Other Ways To Stay Connected