Master of Science in Pharmaceutical Sciences
College

College of Pharmacy

Degree

Master of Science

Location

Atlanta, GA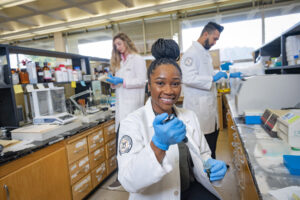 About
The Masters of Science (M.S.) in Pharmaceutical Sciences Degree Program is offered to students who demonstrate exceptional scholarly activity through achievement in academics and original thesis research or non-thesis project in an area of the pharmaceutical sciences. The two-year program is flexible enough to accommodate individuals of varied educational backgrounds.
The degree is available with either a thesis or non-thesis options.
Students opting for Thesis Research must be in residence at all times including at the time of completion of the thesis. and must take courses in person. If you opt for the Non-Thesis Project option, you may choose to take listed courses online, but it must be synchronous.
Purpose Outcomes/Objectives
The Masters in Pharmaceutical Sciences (M.S.) degree is granted to students who demonstrate exceptional scholarly activity through achievement in academics and original research in an area of the pharmaceutical sciences. The specific goals of this graduate program include:
1. Equipping the graduates with the skills necessary to perform in academia, in the
pharmaceutical industry or in government;
2. Fostering the development of oral and written communication skills to be used in
classroom instruction, in the presentation of research findings to the scientific
community and in interdisciplinary collaborative research efforts.
Admission policy
Application for admission must be made through PharmGrad. An application cannot be given final consideration until all required components have been received. A complete application consists of the following:
The application must be completed with the following required materials uploaded:

 Official transcripts. An official transcript is one that has been issued by an institution and received by PharmGrad. You are required to submit one separate official transcript from each college or university you have previously attended or are currently attending.
Official reports of TOEFL or IELTS scores, if required, must be submitted to PharmGrad.
International students with degrees that have not been earned at a regionally accredited institution are required to provide a report by a professional evaluation service for foreign course evaluations. This report must be submitted to PharmGrad. The evaluation should name and describe all diplomas, certificates, degrees, periods of education, or training and give U.S. equivalencies for each. Mercer University accepts evaluations from the following two services:
Recommendations on the supplied forms from three persons who are able to judge the applicant's accomplishments and academic ability. Recommendation forms are to be submitted directly to PharmGrad.
Acceptance into the graduate program in Pharmaceutical Sciences is based on the overall record and ability of the applicant. Applicants failing to meet the required minimum GPA may be considered for admission provided their record is indicative of exceptional ability.
Minimum expectations for consideration for admission into the graduate program include the following:
A Bachelor of Science in Pharmacy, Chemistry, Biology, or an equivalent degree in a related area, Pharm.D. degree or conditional admission with completion of 2 years in the Pharm.D. program. Students entering the M.S. program in the Pharmaceutical Sciences are expected to have a background that includes the following minimum prerequisites: calculus, statistics, biochemistry, and anatomy and physiology. Students who have not completed these prerequisites prior to entering the program may be required to remove deficiencies before they matriculate.
A minimum GPA of 3.0 based on a 4.0 scale
For an applicant from a country where the primary language is other than English, a minimum TOEFL score of 100 (IBT) or a score of 7.5 (IELTS).
Curriculum Requirements
M.S. Pharmaceutical Sciences Required Courses (30 hours)
PHA 715 Pharmacokinetics (3 semester hours)*
PHA 742 Foundations in Pharmaceutical Sciences (5 semester hours)*
PHA 743 Foundations in Research (3 semester hours)
PHA 744 Scientific Writing (3 semester hours)
PHA 745 Statistical Methods (3 semester hours)
PHA 749 Introduction to Research (2 semester hours)
PHA 797 Graduate Seminar (1 semester hour)
Choose one:
PHA 799 Thesis Research (10 semester hours)
PHA 798 Non-Thesis Project (10 semester hours)
*waived for students who have completed the Pharm.D. program at Mercer