Master of Science in Pharmaceutical Sciences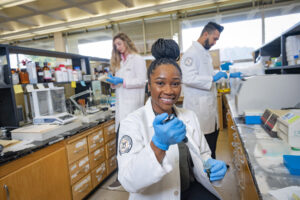 Mercer University College of Pharmacy now offers a Master of Science in Pharmaceutical Sciences: a 30 credit, laboratory-based degree program that offers a thesis or non-thesis track. Students enrolled in the MSPS non-thesis track have the option of completing their degree on campus or by synchronous remote learning. Learn more at
Pharmaceutical sciences research is increasingly important to the health care industry and aims to optimize patient health and improve drug delivery through innovations in research. This degree program will prepare students with concrete skills and competencies to make them competitive for careers in the pharmaceutical industry, governmental agencies or academia.

Projected Plan of Study
Semester 1
PHA 742 Foundation in Pharmaceutical Sciences
PHA 749 Introduction to Research
PHA 798 Thesis Research
PHA 799 Non-Thesis Project
Semester 2
PHA 708 Pharmacokinetics
PHA 798 Thesis Research
PHA 799 Non-Thesis Project
Semester 3
PHA 798 Thesis Research
PHA 799 Non-Thesis Project
Semester 4
PHA 743 Foundation in Research
PHA 745 Statistical Methods
PHA 797 Graduate Seminar
Semester 5
PHA 744 Scientific Writing
PHA 798 Thesis Research
PHA 799 Non-Thesis Project
Semester 6
PHA 798 Thesis Research
PHA 799 Non-Thesis Project
For those enrolled in the combined Pharm.D./MSPS program:
You will waive 10 credits for Foundations in Pharmaceutical Sciences and Pharmacokinetics. Waive another 2 credits if you take the Pharm.D. elective Introduction to Research.
If you enroll in the MSPS degree in the first or second year of the Pharm.D. program, you can complete both degrees in four years. If you enroll in the third or fourth year of the Pharm.D. program, one additional year is needed to complete the MSPS degree.
Total estimated additional tuition for the combined Pharm.D./MSPS is $15,000.

Who should apply?
Professionals from a variety of health care backgrounds, such as
Pharmaceutical industry professionals
Government agency professionals
Pharmacology, Pharmacy or Nursing students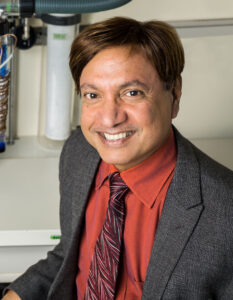 Program Director: Martin J. D'Souza, Ph.D.
Professor of Pharmaceutical Sciences
Director of Graduate Program
Co-Director of the Center for Drug Delivery Research
Dick R. Gourley Chair of Pharmaceutics
Dr. D'Souza is a nationally known expert in nanotechnology whose laboratory focuses on the design of novel patented technologies to deliver nano vaccines via oral-, buccal-, parenteral- and microneedle-based transdermal routes. He has developed two potential dry particulate vaccines, one for gonorrhea and another for ovarian cancer, which was the first ovarian cancer vaccine to reach clinical trials. He joined Mercer University College of Pharmacy from the University of Pittsburgh, where he earned a Ph.D. in pharmaceutical sciences.

Admission Requirements
Potential applicants are required to complete a bachelor's degree program or higher, completing courses with a GPA of 3.0 or higher. Applicants are required to submit their application through PharmGrad application service. For an applicant from a country where the primary language is other than English, a minimum TOEFL score of 100 on the internet-based test is required or a minimum IELTS score of 7.5 is required.

Tuition
$750 per credit hour + technology fee of $150/semester
Total estimated tuition = $23,400

Financial Aid Eligibility
Master's degree students are eligible for private and federal loans.

Ready to Apply?
Submit your application through PharmGrad.
Questions?
Contact the Department of Pharmaceutical Sciences