Doctor of Pharmacy (PharmD)
College

College of Pharmacy

Degree

Doctor of Pharmacy (PharmD)

Location

Atlanta, GA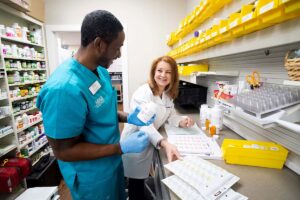 The Doctor of Pharmacy Program offered by Mercer aims to equip students with the knowledge and clinical skills required to deliver top-notch, patient-centered care in diverse settings. Graduates can explore various career paths, such as community practice, hospital pharmacy, and the pharmaceutical industry. Additionally, they can opt for consulting pharmacy, nuclear pharmacy, drug information, managed care, geriatric, psychiatric, or pediatric specialties, or pursue academic opportunities for career growth and flexibility. Obtaining a strong and competitive education through this program is a wise investment in one's professional and financial future.
Unique to Mercer's Pharm.D. programs are opportunities for students during their fourth professional year, such as Advanced Clinical Track, Global Medical Missions, Indian Health Service and International Pharmacy Program.
In 1981, the College of Pharmacy became the first pharmacy school in the Southeast and the fifth in the nation to offer the Doctor of Pharmacy (Pharm.D.) as its sole professional degree. This program requires six years of study following high school, a minimum of two years (66 semester hours) of pre-pharmacy education at an institution(s) accredited by an institutional accrediting agency recognized by the U.S. Secretary of Education, and four years of professional curriculum at the College of Pharmacy.
Mercer University College of Pharmacy Doctor of Pharmacy Program is accredited by the Accreditation Council for Pharmacy Education, 190 South LaSalle Street, Suite 2850, Chicago, IL 60603-3499, 312.664.3575, FAX 866.228.2631.